Last updated on: 24th Feb 2018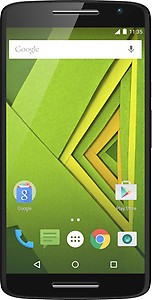 Moto X Play 32GB Price in India
Moto X Play 32GB price in India from
1 stores in India

from

Rs.

13999 -

Rs.

21999
Store Name
Additional Info
Price in India

This Certified Refurbished product is tested and cert.. This Certified Refurbished product is tested and certified to work and look like new with minimal or no signs of wear; the product comes with relevant accessories (headphones may not be included) and is backed by a minimum six month seller or brand warranty<br> 21MP primary camera with dual CCT flash and 5MP front facing camera<br> 13.97 centimeters (5.5-inch) Full HD LCD capacitive touchscreen with 1920 x 1080 pixels resolution<br> Android v5.1.1 Lollipop operating system (Upgradable to v7.1.1 Nougat) with 1.7GHz 64-bit MSM8939 octa core processor, 2GB RAM, 32GB internal memory expandable up to 128GB and dual SIM dual-standby (2G+3G)<br> 3630mAH lithium-ion battery<br> + more

Show 2 more offers
Moto X Play 32GB Price Trends
Moto X Play 32GB price at Ebay has fluctuated between Rs. 12499.0 and Rs.20199.0 in the last 3 months
The lowest online price for this product in the last 3 months was Rs. 12499.0 at Flipkart
The lowest online price for this product in the last 3 months was Rs. 12499.0 at Flipkart


The prices in the Price Trend graph do not include coupon savings.
Moto X Play 32GB Specifications
In The Box
Handset,Headset,Wall Charger,USB Data Cable,Guides
Sound Enhancements
3-mic Support
Resolution
1920 x 1080 Pixels
Other Display Features
Corning Gorilla Glass 3,403 PPI
Operating System
Android Lollipop 5.1.1
Processor Type
Qualcomm Snapdragon 615
Primary Clock Speed
1.7 GHz
Operating Frequency
GSM - 850,900,1800,1900; UMTS - 2100; 4G - LTE Bands (1,3,5,7,8,19,20,28,38,40,41)
Expandable Storage
128 GB
Supported Memory Card Type
MicroSD
Memory Card Slot Type
Dedicated Slot
Primary Camera Available
Yes
Primary Camera Features
f/2.0 Aperture,Quick Capture,Tap Anywhere to Capture,Slow Motion Video,Burst Mode,Night Mode,Auto HDR,Panorama,Drag to Focus and Exposure,Closed Loop Processing
Secondary Camera Available
Yes
Flash
Dynamic CCT Dual LED
Video Recording Resolution
1920 x 1080
Digital Zoom
Digital Zoom - 4x
Supported Networks
4G LTE,4G LTE
Internet Connectivity
4G,3G,Wi-Fi,GPRS,EDGE
Pre-installed Browser
Android
Wi-fi Version
802.11 a/g/b/n
Sensors
Accelerometer,Ambient Light Sensor,eCompass,Hall Effect Sensor,Magnetometer,Proximity Sensor,Sensor Hub
Other Features
Curve: 8.9 - 10.9 mm,Water Repellent Coating
Video Formats
MPEG4,H.264
Battery Capacity
3630 mAh
Moto X Play 32GB Coupons
There are 2 coupons available for this product: 2 for amazon
Amazon

Shop for accessories, cameras & photography, car & vehicle electronics, computers & accessories, gps & accessories, headphones, home audio, home theater, tv & video, mobiles & accessories & more.

See all amazon coupons
Truly the BEAST in its class!!! 4.5 Stars
By Rakesh Sharmaon
Truly the BEAST in its class!!! 4.5 star (Please read the entire review & help other buyers by clicking the LIKE button) Hello Folks!!! I Used SONY, SAMSUNG, ASUS Zenfone 5 and Mi 4i but this phone stands tall and stays Number ONE. Few details u may need to know about this phone are as below: 1. Battery- To get max out of the battery- Initially completely drained the battery to 2% around and then charge it full in one shot and repeat it atleast thrice. Battery will surely give u the best, Li-Ion 3630 mAh (Turbopower charging) lasts for 1 and half days of mix usage, it gets up to 8 hrs of battery life in just 15 minutes of charging 2. Display and Build- Its FHD 14CM screen @ 403 pixel per inch, looks very Crisp and Vivid even in outdoor lights, it's a Solid built and nicely curved phone & has almost 75% body to screen ratio 3. SIM and SD Card: Both SIM cards can be used at same time, in the SIM tray one side is for both SIM cards (NANO) and other side is for microSD, upto 128 GB 4. Network- SIM 1 is 4G/3G and SIM 2 is 2G. Internet Speed in 4G and 3G is splendid, used with Airtel in Bangalore, Call quality is just superb, No call drop issue faced so far 5. Audio & Voice- Speaker Quality is just awesome, music is very loud and beats are so clear (Even in earphone it's like beats audio quality), very nice, However; Earpiece Volume could be increased by 1 more segment 6. Gaming- Played couple of HD games, phone works fine with normal games but a bit sluggish in HD and heavy games, but overall it manages almost all games considering RAM and Processor. 7. Processor and RAM- RAM management is just awesome, almost 1.5 GB is usable, which is impressive and handles parallel processing nicely with 8 Cores processor and 2 GB Random Access Memory (RAM). 8. Camera- Primary Camera (dual LED) @ 21MP captures descent pics in natural light, it has 4x optical zoom and a Focus with light adjustment feature, details are very good, low light pics are not bad either and so does the secondary camera, its perfect for selfies. 9. Brand and Service- Moto was a Google company (not now), brand is superb and after sales service is also good 10. Other Features- It's not a water proof phone that means you cannot put it inside the water but yes it can be used in low showers or splashes. Pros: • Fantastic Battery life @ Li-Ion, 3630 mAh (Please read Point No. 1 to get max battery life) • Moto Voice is better, Speaker Volume and Earphone audio is just awesome for Music • Solid build and nicely curved phone, looks like a high-end flagship (Resembles LG G4) • Improved camera performance with both front and primary (Camera Settings are superb) • Dual Nano SIM and Micro SD slot in one tray, so easy to manage in 1 shot • Water repellent so it can handle low showers and splashes • 2 Pin Charger has 2 USB ports so if you have a USB cable then 2 phones can be charged at the same time (However; Moto gives only one USB cable) • It's a pure android by google without unwanted custom software so it makes mobile performance better Cons: • SAR value (Head - 0.80 W/Kg, Body - 1.23 W/Kg) it is on higher side so heavy callers pls be careful • Hold grip could have been better, (can overcome by using Back cover) • Camera is a bit sluggish in darker settings (only DSLR works fine in low lights) • No 4K recording (It could have atleast 720p @ 60fps) • No Gorilla glass 4 (Moto still using GG3, use screen guard if u would like to) Overall this phone is best in class, it feels like high-end flagship, it's a steal
A "Complete" smartphone
By Pavas Ambashtaon
I ordered 32 GB variant (Black) and got it on 27th September..I am writing this review after using this phone extensively for 4 days..Here are some of my initial impressions of this phone : Pros: (i) Looks : I don't bother about the measurements in numerical values as they can be deceptive..Hold this phone for once and feel how ergonomically beautiful and comfortable it is in your hands!! It's textured back panel gives it a classy look..Even after having a 5.5 inch screen and weighing 169 grams it doesn't feel that big nor that bulky..One hand operation is entirely possible with this 5.5 inch phablet.. (ii) Screen : I really find it amusing when people say "Why Moto X doesn't have 2K screen?" I challenge them to show a single pixel on the screen and I would lose my Moto X Play to them..Again, I request don't go by number games, see the quality..Screen is perfect..IPS LCD screen may not be as bright or as vibrant as AMOLED, but it does has it's own merits..Colours look natural..Black is perfectly black and white also appears natural..Readability under direct sunlight is good.. (iii) Call Quality : I won't write much in this regard..With any smartphone in this range you will definitely get good call quality and Moto X Play is not an exception.. (iv) Speaker Volume : It has a single firing speaker on the front..Don't expect it to perform like Home Theaters.. For all practical purposes it's sound is loud and clear.. (v) Performance : Hmmmm...I have seen many "REVIEWS" lambasting Moto X Play for having SD 615 chip set and "just" 2 GB of RAM..I really find it funny when people start giving specifications much more value compared to real world experience..There may be tens of phones providing better specifications at this price range, but the performance which you get from this phone is just awesome..I am not saying that it is the best performing smartphone, but for a smartphone under 25K, it performs more than enough..I have installed as many as 23-24 applications including some high end games, but the phone has yet to show even a slightest hint lag..I played Real Racing 3 with almost 20 applications running in background (I did it purposefully to check the phone's capability) and the experience was buttery smooth.. After prolonged use, it gets warm but heated?? Hell NO!!! (vi) Camera : Camera interface is simple..It doesn't have a long list of controls..But it is rather helpful for ameture like me who doesn't get confused between hundreds of options while taking a snapshot.. Rear facing 21MP camera doesn't need any review..It is really a very good camera producing very true colours and great details..However OIS would have made it even better..But surely the phone has best camera for below 30K range smartphones.. Front facing 5MP camera also take great snaps..It has a unique technology that screen gets lit up while taking selfie in low light..It makes selfies better than other 5MP front cameras like that on Lumia 730.. (vii) Battery : I won't comment much on this aspect as of now as I am still exploring it..However I found on moderate usage it can easily give 36 Hours backup.. (viii) Software Updates : Being a Motorola phone one can be sure of timely software updates..Android Marshmallow will be there for Moto X Play as early as December this year.Just compare this with any Samsung or Chinese brands like Xiaomi, Asus etc.. (ix) Touch less Control : Unique feature of Moto X series and Moto X Play is no exception..It may seem like a "not so useful" feature, but it really makes smartphone smart..Use it to feel it.. Cons: Not many to say..Just OIS in rear facing camera would have made it even better.. Conclusion : A large, bright beautiful screen, ergonomic design, excellent camera, smooth performance, good battery backup and timely software update makes this phone as a Complete Smartphone..If one is really wishing to have a smart experience of a smartphone under 30K, Moto X Play is certainly the best choice..
BEAST
By Kushagra Junejaon
It's got everything I ever wanted in my mobile.. Excellent processor; RAM, True-To-Life display, great camera.. and the list goes on. NOTE: Using this device for about 2 weeks now. PROS: 1.Form factor: It got a nicely curved and rubberised back. The curvature helps distribute weight evenly on your palm an thus is perceived to be light.It's not light though, but you wont realise that. Furthermore, the rubberised back means it just wouldn't slip off.Tried pushing it around on the table and it stuck its ground. LIVE TEST: I have comparatively small hands and the only place on the screen I couldn't reach was the top-left corner.All the other areas were comfortably accessible. 2. Display: An excellently bright and clear display. Imagine a full HD LCD TV screen crammed into a mobile. It's just that. And it's one of the brightest. LIVE TEST: It's better than a OnePlus 2 display. NOTE: Corning Gorilla Glass 3 is NOT to prevent cracking/shattering of the screen. The gorilla glass is there to prevent the screen from getting scratched. LIVE TEST: I tried using a brass kada, coins and even a household fork to scratch the screen. NO SCRATCHES FOUND. 3. Processor: It's probably the only smartphone with a SD615 processor that doesn't suck. LIVE TEST: I played Asphalt 8 and Dead Trigger 2 on full graphics setting and the Moto didn't stutter even once and then talked on a call and guess what?! I DIDN'T BURN MY EAR simply because it's not as hot as other users are claiming it to be unless they got a defective product. NOTE: It's a computer processor thus it's bound to heat. But the heat is definitely bearable. The device gets warm on average use but that's okay, it's not a block of ice. 4. RAM: 2 gigs are actually more than sufficient for me. Every time I check the free RAM is above 900 MB. And I have a ton of games and other apps installed (to the tune of around 8 GB) 5. Battery: The battery performance is excellent now. I was absolutely shocked when the the first full charge lasted me only half a day. At that point, I was getting a screen on time of about 3 hours. Now I get a screen on time of about 8. Almost 3 times. LIVETEST: Asphalt 8 Full Graphics, 60% battery depletion over 4 hours with WiFi on throughout. Wow. My previous mobile didn't survive 4 hours on internet browsing let alone gaming. 6. Camera: It's a beauty. The landscape shots and even the portraits are gorgeous when in bright light. However, the low light shots are not exactly gorgeous, but they are still at par. The front camera also gives decent selfies and the lack of a front flash is fulfilled by automatically brightening the screen to shine light onto your face. (The display is actually that bright) LIVETEST: The outdoor shots are better than the OnePlus 2 and even iPhone 6. However the indoor shots aren't. 7. Speaker: The speaker will blow your mind. It's hauntingly loud and surprisingly clear. LIVETEST: I cranked it up to full volume while playing Asphalt 8 and was happy with the loudness. Then a little later I came to know that the in-game sound settings were at 47% of the total volume. Full volume, and I was left dumb-founded. 8. Stock Android: Plain and simple, It's how Android was meant to be. Fast, fluid and intuitive. More over the MOTO app integrated, is amazing. Voice control and Active display. CONS: 1. Night Photography: Yes, it suffers. The pictures show small amount of grain, but is noticeable nonetheless. But that being said, it doesn't mean it clicks bad photos. It clicks better photos than any phone in this price range. Clearly, the hardware doesn't have any issues here, only the software needs to be optimised more since the same lens can click astonishing pictures in sufficient light. 2. Power Button and Volume Rocker: They are flimsy and can be heard to rattle when the phone is shaken and are made of plastic 3. In-Box Headset: The supplied headset is of poor quality (The same that is supplied with the moto G). But this isn't a deal-breaker though because at this price point, you can't get everything without compromising somewhere. The sound output to a good set of headphones though is GREAT. 4. Charging time: A full charge from 0-100 takes about 3-4 hours which is a LONG time for practical purposes but given that the phone the lasts for about 2 days thereafter justifies it completely. Note: The official moto turbo charger is currently not available in India. But there are other Qualcomm Quickcharge 2.0 certified chargers that will do the job as well. But they are expensive (Of the tune of about Rs.2k) All in all this is a must buy. P.S. If this review was helpful, please click the thumbs up below so that it might help the others also. :)
Phone with the best things i was looking for
By Darrylon
So coming from a 5c, which stopped working after me dropping it down. So i was searching for a new phone for temporary use. This phone is like everything what i wanted in a phone. Lets go by the pros and cons first PROS: 1)Display: Its one of the best 1080p screens ive come so far, the IPS panel produces realistic image rather than over saturated colours in amoled display. Which i really like, but some people prefer amoled over IPS, choice is yours. 2)Micro SD: YES! Micro SD card this is the feature im missing in most of my previous phones, plus in Android 6.0 we can install apps in external SD card too. So yeah its really a bliss 3)Size: First i thought the phone was very fat, looking by the pictures. But then when i felt it first, its thinner at the sides and fatter in the middle, which is perfect for gripping it. 3)Micro SD: YES! Micro SD card this is the feature im missing in most of my previous phones, plus in Android 6.0 we can install apps in external SD card too. So yeah its really a bliss. 4)Battery: It has a 3630mah battery, which gives you enough juice to last for a day. Usually it lasts for more than a day and half for me. I mostly use emails, skype, whatsapp, snapchat and facebook, I dont play games at all, So yeah gaming will give less battery performance. 5)Camera: The camera is a 21mp rear with dual tone led flash and 5mp front with screen flash, rear camera is really good in day light or artificial light. Even with flash its good, Very less noise and the picture is very clear. Front camera is good too for selfies. Some manual settings are there too (manual focus and manual exposure). 6)Moto features: Moto display, voice and actions. Out of the 3 i use only moto display, its the best thing about this phone, pick it up from the table or from your pocket, screen turns on and can quickly access your missed notifications. Now for the CONS 1)The only thing i hate most about the phone is volume rocker and the power button, they are so wobbly and it makes sounds when you shake the phone closer to your ear. Moto shouldve atleast put a decent set of buttons. 2)Shouldve included the turbo charger as this Phone supports turbo charging(I guess they dint because of cost cutting, cause 18.5k for this phone is actually a steal) 3)Set of earphones provided are below average( Again i guess cost cutting to make it come to 18.5k) Some things to be mentioned about the phone: 1)No led notification light: Not actually a con for me, cause moto display makes you forget what led notification light is. 2)There is no gyroscope(I dont really care about this) 3)Snap dragon 615 is an average processor: The phone is obviously priced at 18.5k so its an middle class phone. Plus i dont play games so i having a very fast processor doesnt matter. This processor does the job from browsing to scrolling through apps quickly. If you want faster processor go for moto x style. 4)2gb ram: Some may find it less, but it is actually enough for a average user like me. People who want 3gb ram as they do lot of multitasking and play games may get the moto x style again. 5)Front speakers is a single one, it first looked like dual speakers but they are single. Still doesnt matter cause i use speakers only for call ringtone. 6)Comes with a nice sim card removal tool. Classy moto. 7)Has gorilla glass 3, i think it shouldve come with gorilla glass 4. Anyways it doesnt matter, as i have cracked 4 of my previous smartphones screen. Lol. Im careless. Ive heard reviews of people saying the phone heats a lot and stuff, may be you got a defected model, cause my phone doesnt heat at all. There is some heat during charging but its not a lot, just minor heat which i feel is common. And if the model is not defective then may be stop posting negative reviews. As the battery goes people are saying average battery, these are the people who are using phone continuously with power hungry apps and screen on. It is way better than my friends s6 which lasts him 8-10hrs of usage(that too not heavy use of games), so again i request youll to stop posting negative reviews. So i actually got what i wanted in a Phone a good display, camera, battery, audio output through headphones, a decent processor to handle medium usage apps like skype, facebook, emails, whatsapp, snapchat. So overall happy with the Phone. I recommend it if your budget is tight around 20k. Sorry for such a long review but i had to help buyers who are interested in getting this phone to know the overall details of the phone. Thanks for reading my review :D
This is a Brilliant phone. Must Buy.
By Devpriyo Palon
I will keep it short and address the most important concerns that users have. Is it a Flagship? The short answer is no, it isn't. It is a mid range phone, between the budget moto G and the flagship Moto X Style. So why should I buy it? Because It has everything you NEED. The build quality is perfect. The screen does not reach the edges like in Moto X 2. Hence it is more likely to survive drops. Still, I'd recommend investing in a strong thin cover. The chrome metal finish for the rims and the rubberised back panels are a joy to hold and look at. And even though it is a 5.5 inch screen, owing to characteristic motorola curve body you won't have a problem with single handed usage. The BATTERY is it's USP. It is a massive battery and lasts me 24 hours of moderate usage with a screen time of 6 hours. SIX HOURS. imagine that. With wifi on at all times and data for about 30 minutes. (My moto G 1st gen gives me 3 hours tops.) The screen is beautiful. 5.5 inch of vibrant colours at a pixel density of 400 something, Love it. You will too! It's the second best thing about the phone! The processor. Yes 615 octacore is not the best among the lot. It's actually not even close to the best. But it's here for the BATTERY and not for the performance. But I am a bit of a lag-freak and still very satisfied. It will be more than adequate for your daily life. You can listen to music, write an answer on quora, research on chrome about the answer, get distracted and open facebook while still listening to the music, get a text on whatsapp, reply to that, remember about quora and go back to it without any Lag. Lag free. The 2 GB ram is enough, trust me. Unless you're a gamer/power user. It does not stutter. Aiding the performance is the almost-stock android. Well, stock really, cause you don't even notice the moto apps. Buttery smooth, man! :') I haven't noticed any heating issues. Then again, I haven't played Graphic intensive games and I don't plan to. So I shall not comment on that. The camera is great. Not fantastic but great. Satisfying photos in good light. In poor light, ah well, they had to cut SOME corners. Front speakers. Amazing improvement. The movie/music/youtube experience is so much better. loud booming sound. Please note: NOT dual speakers. Still adequate sound. You can hear your phone in a bus. Unless the bus has really noisy engines. :P So are there any cons, fanboy? Yep. Don't buy it if you're a gamer. It will heat up and lag when the CPU is throttling. If you want to take photos in a low light environment, look elsewhere. Stupid data toggle switch now takes 5-6 touches to reach smh. *But it's there, unlike a weird reviewer before me who said it's not there. How can it not BE there?! This phone is for the regular folk like us who spend an unhealthy amount of time on social media and IM apps, like to take occasional photos/videos, watch movies, listen to your music on headphones/loudspeakers. If that's who you are, don't have any second thoughts, bruh!
KOI BHI BHAI Y WALE PHONE NA LE BEKAR KE PASE LAGTE H
By Dev lambaon
KOI BHI BHAI Y WALE PHONE NA LE BEKAR KE PASE LAGTE H MANE PHONE LIYA TO BEAK COVER TUTA HUA MILA BAD ME PHONE PICK NAHI KARWAYA GAYA MUJHE KHUD BHEJANA PADANOT BUY PLZ
One star
By Subhoon
First of all charger & headphone is missing thn the mobile has hitting problem.scrach is vissibale.battery service poor.bad product.
Moto X play
By Amazon Customeron
It is awesome mobile from Motorola google. Nice display and good camera.
Four Stars
By Anilon
What about battery capacity?
Moto X Play 32GB price in India summary
We have aggregated Moto X Play 32GB price and coupon offers available across all online stores in India.
Moto X Play 32GB lowest price in India as on Sat, 24 Feb 2018 is Rs. 13999.0 offered by Amazon.
We also have coupons from 1 stores for this product.
Most online stores provide delivery in all major cities in India including Mumbai, Bangalore, Delhi, Hyderabad, Pune and Chennai.
People looking for Moto X Play 32GB may also be interested in:
Moto X Play 32GB price in India is
Rs.

13999 on 24th Feb 2018

Disclaimer:

Scandid is a search engine that crawls every online store in India to find every product that is sold online. We currently show products in Books, Computers, Electronics, Appliances and Personal Care categories. Although we make every effort to present accurate product and store information, including prices and stock availability, Scandid cannot guarantee and is not responsible for inaccuracies or omissions. Please give us

feedback

on these results!