Last updated on: 21st Feb 2018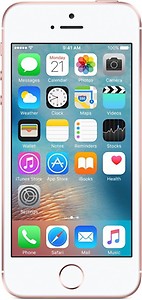 Apple iPhone SE 32GB Price in India
Apple iPhone SE 32GB price in India from
6 stores in India

from

Rs.

19299 -

Rs.

24990
Store Name
Additional Info
Price in India

Show 2 more offers

12MP primary camera with 720p HD video recording, ret.. 12MP primary camera with 720p HD video recording, retina flash, ƒ/2.4 aperture, auto HDR for photos, backside illumination sensor, exposure control, improved local tone mapping, face detection, timer mode, burst mode and 1.2MP front facing camera<br> 10.16 centimeters (4-inch) LED-backlit multi-touch capacitive touchscreen with 1136 x 640 pixels resolution and 326 ppi pixel density<br> IOS v10 operating system with 1.84GHz A9 Chip 64-bit Architecture Embedded M9 Motion dual core processor, M9 motion GPU, 2GB RAM, 32GB internal memory and single SIM<br> 1624mAH lithium-ion battery providing talk-time of 14 hours and standby time of 13 hours<br> 1 year manufacturer warranty for device and 6 months manufacturer warranty for in-box accessories including batteries from the date of purchase<br> Audio calling- It supports voice over LTE(VOLTE)<br> + more

Show 2 more offers

Show 3 more offers

Show 2 more offers

This Apple iPhone SE 16GB flaunts the much loved icon.. This Apple iPhone SE 16GB flaunts the much loved iconic design of an older iPhone and packs the most advanced and powerful features such as 4" Retina display, 16GB capacity, A9 chip, 12MP iSight camer... + more
Apple iPhone SE 32GB Price Trends
Apple iPhone SE 32GB price at Ebay has fluctuated between Rs. 20999.0 and Rs.25990.0 in the last 3 months
The current price from Ebay is Rs. 20999.0
The lowest online price for this product in the last 3 months was Rs. 23990.0 at Scandid
The lowest online price for this product in the last 3 months was Rs. 23990.0 at Scandid


The prices in the Price Trend graph do not include coupon savings.
Apple iPhone SE 32GB Specifications
Talktime
Up to 14 hours on 3G
Standbytime
Up to 10 days
Talktime (3G) Range
15-Oct
Dimensions (H X W X D) (Mm)
123.8 x 58.6 x 7.6
Music Playback Format
WAV / AAX / AAX+ / AAC / VBR / 3 / AIFF / HE-AAC
Video Playback Format
H.264 / 4 / MOV / M4V / AAC-LC / EG4 / AVI / MJPEG / PCM / Full HD / 4K - Ultra HD
Cpu
A9 Chip with 64-bit architecture
Processor Name
Apple Twister
Screen Type
LED-backlit Widescreen Multi-Touch Retina Display
Screen Size Range
3.5 - 4.0
Screen Resolution
1136 x 640 pixels
Video Recording
3840 x 2160
Flashlight
Retina Flash (FaceTime HD camera) and True Tone flash (iSight Camera)
Special Features
Touch ID/ LTE Connectivity
Callfeatures
FaceTime video calling/ FaceTime audio and Wi-Fi Calling
Model Number
iPhone SE 16GB
Network Supported
GSM / LTE / UMTS
Display Resolution
1136 x 640
Operating System Range
iOS
Processor Cores
Dual Core
Processor Speed Range
1.5 - 2
Front Camera Resolution Range
1.0 - 2.0 MP
Front Camera Resolution (Mp)
1.2
Rear Camera Resolution (Mp)
12
Rear Camera Resolution Range
11.0 - 12.0 MP
Mobile Hotspot Capability
Yes
Navigation Technology
GPS / A-GPS / GLONASS
Internal Memory Range
8 GB - 16 GB
Others
Touch ID Fingerprint Sensor
Multiple Languages Supported
Yes
Battery Capacity Range
1500 - 2000
Standby Time (3G) Range
200 - 300
Internet Connectivity
4G,3G,Wi-Fi,GPRS,EDGE
Pre-installed Browser
Safari
Sensors
Three-axis Gyro Sensor,Touch ID Fingerprint Sensor,Proximity Sensor,Ambient Light Sensor,Accelerometer,Digital Compass
Important Apps
Health,FaceTime,Wallet,iTunes Store,App Store,iBooks,Game Center,Weather,Voice Memos,Stocks,Podcasts,Tips,iMovie,Pages,Keynote,Numbers,iTunes U,Garage Band,Remote,Music Memos,Find My iPhone,Find My Friends
Warranty Summary
Brand Warranty of 1 Year
Screen_size
10.16 cm (4 Inch)
Unique Thing
Hybrid IR Filter
Product Code
MOBAPPLE-IPHONEDDMS38235B9DBC5EB
Gpu
PowerVR GT7600 (six-core graphics)
Return Policy
10 Days Replacement Policy - Product replacement is accepted by seller within 10 days of product delivery only in case a wrong or damaged product has been delivered. Cancellation allowed.
Apple iPhone SE 32GB Coupons
There are 5 coupons available for this product: 2 for amazon, 3 for ebay
The best coupon available for this product is: Special Offer on Apple iPhone SE 32 GB (Space Gray) from Paytmmall and it expires on: Thu, 22 Feb 2018
The best coupon from Paytmmall will save you Rs. 2500.0
starts to show sound defects from the first day itself ...
By Amazon Customeron
starts to show sound defects from the first day itself.never buy such items online for the sake of cheap rateThis is my third phone from online but 1st time from amazonnever gonna trust amazon bz most of the tym amazon didnt do well with the quality of the products
Feels so good to be back on iOS
By Balaon
My first phone was iPhone 4S. And I loved it. And from there on went to Android due to budget reasons. Was using Mi Redmi note 3. Was a pathetic phone. Never liked android too.Now coming to the phone review.Phone is awesome. Wish I had bought i7. But no budget right now.Phone is faster than redmi note 3. Display quality is way way better. Wish the display was a little bigger.Rear camera is aweaome. Front camera being 1.2mp is better than redmi note 3 5mp.Sound is good. Not as loud as Mi note 3. But the quality is better.Phone is very handy. After using Mi. Doesn't feel like my phone is in the pocket.Overall a very good price I bought it for. 16,999 - 10% cash back.Phone was delivered to me on the 20th October. But there was a call made to 911 in sept. Attaching a pic of the same.Phone was manufactured in Sept 2017. So very recent.
Defective charger adapter
By Anushweton
Just recived package and its has a Defective charger adapter with this one
Small and fast
By Ajay Shyanbhogon
Moved from a 5S to SE. Love this phone for the small form factor. Speed is fantastic too. Thought my 5s was fast enough until I started using this. SE with Jio combination can't get better. Was many days before I connected to Wifi as 4G signal is strong and fast practically everywhere I've been. Had to connect to Wifi at home only to trigger backups and updates. Battery lasts two full days of use if you need to stretch. Battery bank is lying idle after switching to SE. GPS locates almost instantly. Photos look good enough, but I'm not the best guy to comment on this. Have to say though that it's got common for my colleague to ask for me to scan documents (with Scanner Pro app on this phone). Overall yet another good phone from Apple.
iPhone SE, one that fits the palm!
By N!skon
Apple iPhone SE (Space Grey, 32GB)
Five Stars - very impressive phone
By Top Reviewer Padduon
Anyone that owned an iPhone 5 or iPhone 5S will immediately feel at home with the iPhone SE, as the two handsets are identical from the outside.Weighing 113g and at 7.6mm thick, the iPhone SE is exactly the same size as the 5S and is compatible with the same range of cases and covers.the iPhone SE is comparatively tiny by today's standards, slipping easily into any pocket. The size is easily manageable and again one of the main factors why someone would purchase the SE. The phone feels great in the hand, and because of its size, one handed use is very possible.Call quality is good. You can now use siri just by saying 'hey siri' without having to press any buttons or physically interact with the phone as you do on the iPhone 6S.High intensity apps like games run without any issueBattery : Your mileage may vary. Generally I'm the kind of person that always uses full brightness with Bluetooth, location settings, Wi-Fi, mobile data etc. always on. In my experience the battery is great. I don't play intensive games much but I have most radio communications on, full brightness on, stream a lot of music, watch videos from time to time and have many push notification based services on. Sometimes I can go two days without charging this phone. If you're in the habit of charging your device every night you should be fine alsoCamera: The iPhone SE houses a 12MP camera which is also capable of 4K video recording at 30 FPS and 1080P at 60 FPS. The camera loads very quickly and shutter speed is impressive. Its an excellent point and shoot camera, images are crisp and clear but this is very much dependant on how much light is available. Low light isn't awful but its far from impressive. Overall though the camera is very good and has impressed some when I've uploaded the photos to a high resolution screen.Conclusion : It is not for everybody but if you want a well designed portable phone with amazing performance, good battery, an excellent camera at a reasonable price point you can't go far wrong with the iPhone SE.
I phone SE very good phone
By S.Vijayalakshmion
Excellent product at a low price of 20000/-Got it on 02/12/2017 and it's fine. Lasts for more than 36 hours with one full charge for medium users. Like 240 minutes of talk time and and heavy internet usage. 1 month old now.Brand New and prompt delivery.
Product damage
By Amazon Customeron
Charging Cable is not working
Best smallest beast!!
By Parag Kulkarnion
Perfect for me as a secondary phone! I love how beautiful and small yet powerful this device is!!I hope SE2 will be a mini version of iPhone X!
Superb phone...loved it
By Nishthaon
Superb phone...quite economical ....very fast...if this is your first iPhone you should definitely go for this phone
Nice product
By Venkata Ramana Babu Nadimpallion
Nice and beautiful phone Pro 1. Rear camera - its beautiful especially live mode 2. Software is clutter free..smooth 3. UI is simple and takes 2-3 days to adjust ...but once adjusted u love it. 4. Built quality, speaker volume, 4g/3g calling and internet usage all are the best 5. Doesn't? support fast charging, but charges 100% in less than one hr 6. Eventhough the screen is small, doesn't feel so, while watching videos u love the quality. 7. Compactness and one hand usage is really amazing. Cons 1. Selfi cam..better in daylight, ok in low-light. But never best. 2. Freedom in settings is missing...specially Android users will experience. Other than this not much. Verdict.. very good phone for especially girls and conventional phone users...but for the techno geeks and frequently changeover believers it does not suit...the freedom njoyed by android users is really missing.... Go for minimum 32 gb...if u can get below 23k otherwise wait for 128 gb(which i feel unnecessary for this phone)
Cool device..handy..mighty performance
By Flipkart Customeron
I checkwd the warranty on apple site.. it was fine.. however people who like small phones should only go for this.. not good for media consumption..display quality is ok. Battery is a bit poor but ok.. Sound quality is cool.. premium body.. the main advantage of this phone is that it IS BEAST in performance..as good as a gophone 8 .. back camera is good as it is same that of 6s.. Overall it is a cool device..apple is definately better than any androids.in my op
Terrific
By Yogesh hase on
Best mobile phone ever seen
Genuine product
By Hemant Bangaon
Update after 20 days of usage: phone become faster after update to iOS 11 good features, not hanged till now, genuine product. First update after purchase: I am impressed with the quality and price of I phone SE. It is beautiful beast with the performance. Also , excellent work done by flipkart. Got rose gold model in Rs 15179 after exchange with Lenovo K4 note. I become bored with large screens that's why I took this phone with one hand operation. And it is genuine brand new I phone SE. You can actually believe flip kart in providing value for money product. Despite all negative reviews I ordered the phone and got this beast. This is my fourth mobile from flip kart and all three previous mobile did well. Thanks you flip kart. Guys, buy only if you want small screen.
Mind-blowing purchase
By SANDEEP KUMARon
Recieved the product well in time. Hatsoff to the FlipKart for on time delivery. Now about the phone, iPhone SE is a good choice for those who like to have a decent small phone having nice features and reliability. Earlier this phone was quite costly but now it is moderately priced. I got it in RS. 15200/- after getting 3 offers if Flipkart and HDFC bank card. At this price phone is amazing. It's hardware is almost equal to iPhine 6s. Product delivered to me was original and intact. Packing done by the FlipKart has degraded by time. But I received my phone without any damages. Details on box shows that phone was imported in India in August 2107. Most admired features of the phone are its size and it's performance. Size is so small and performance is insanely big. I am now in a great comfort of carrying phone with me. It never bulge out from my pocket. It's performs in running applications and in general operating is decent. I always want this type of phone and now my search ends. Really it's nice to get rid of bulky phones. Camera is decent in all type of lighting conditions but front facing camera is not upto mark in comparison to the time where people's are selfy concious. Of taking selfies it will disappoint you. But for normal pics it is good. Browsing and surfing the internet is good but reading text may strain your eyes as size of display is too small. But browsing speed and compatibility to web technologies is amazing, all the sites open smoothly. E-mail client is too good and you never regret of using it. Messaging and Calling quality is good and you hear the caller's voice clearly even in a crowded site. It is is VoLTE phone you can use it with Jio Network for calling as well as data. Battery life is much better in comparison to other iPhones. If you are using the phone as phone not an entertaining device then it will let you enjoy full plus day. But use of multimedia may cause battery drain faster and need charging by dusk time. Battery is really better in comparison to other iPhone models. It's way of notifications is way better and it is good for busy executives and more suitable to senior citizens. It's operations are most easy and elderly people will be happy to use them. Inbuilt Apple Pay and support to Apple watch, NFC is a plus feature, however ApplePay is not usable in India at this time (October 2017) may be useful in future. Touch ID i.e. finger print scanner is really disappointing. To unlock phone you have to scan and press the home button with your finger unlike iPhone 7 where you need to only touch the scanner. It doesn't have 3-D touch. But in general it is not a required feature by now and not supported by most of the applications. All other features are same of iPhone 6s and iPhone 7. Maps and GPS is accurate and fast. It also support Google maps. My opinion about this phone is I like it and it is an excellent phone for professionals like Doctors, engineers, respected teachers and professors, advocates. College going and school students, others who use their phone to watch movies and play games extensively please keep away of this phone as it is not meant for you. It may be best choice for elderly persons. I will share my experiences after using it for 2-3 months.
Apple iPhone SE 32GB price in India summary
We have aggregated Apple iPhone SE 32GB price and coupon offers available across all online stores in India.
Apple iPhone SE 32GB lowest price in India as on Wed, 21 Feb 2018 is Rs. 19299.0 offered by Paytmmall.
We also have coupons from 2 stores for this product.
Most online stores provide delivery in all major cities in India including Mumbai, Bangalore, Delhi, Hyderabad, Pune and Chennai.
People looking for Apple iPhone SE 32GB may also be interested in:
Apple iPhone SE 32GB price in India is
Rs.

19299 on 21st Feb 2018

Disclaimer:

Scandid is a search engine that crawls every online store in India to find every product that is sold online. We currently show products in Books, Computers, Electronics, Appliances and Personal Care categories. Although we make every effort to present accurate product and store information, including prices and stock availability, Scandid cannot guarantee and is not responsible for inaccuracies or omissions. Please give us

feedback

on these results!