Last updated on: 25th May 2018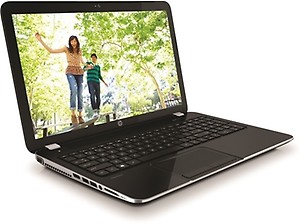 HP Pavilion 15-n208TX4th Gen Ci5/ 4GB/ 1TB/ Win8.1/ 2GB Graph Price in India
HP Pavilion 15-n208TX4th Gen Ci5/ 4GB/ 1TB/ Win8.1/ 2GB .. Specifications
Sales Package
Laptop,Battery,AC Adapter
Power Supply
65 W AC Adapter
Dedicated Graphic Memory Type
DDR3
Dedicated Graphic Memory Capacity
2 GB
Processor Generation
4th Gen
Clock Speed
1.6 GHz with Turbo Boost Upto 2.6 GHz
Memory Slots
2 (Unused Slot - 0)
Expandable Memory
Upto 12 GB
Graphic Processor
NVIDIA Geforce 740M
Operating System
Windows 8.1
System Architecture
64 bit
Usb Port
1 x USB 2.0,2 x USB 3.0
Hdmi Port
Yes,HDMI Port with HDCP Support
Screen Resolution
1366 X 768 pixel
Screen Type
HD BrightView LED Backlit Display
Internal Mic
Dual Array Digital Microphones
Sound Properties
DTS Sound+,HD Audio,Dual Speakers
Wireless Lan
IEEE 802.11b/g/n
Dimensions
385.5 x 258 x 22.6 mm
Web Camera
HP TrueVision HD Webcam
Lock Port
Kensington Lock Slot
Antivirus
McAfee Internet Security
Keyboard
Island-style Keyboard
Pointer Device
Touchpad with Multi-touch Gesture Support
HP Pavilion 15-n208TX4th Gen Ci5/ 4GB/ 1TB/ Win8.1/ 2GB .. Coupons
There are 1 coupons available for this product: 1 for flipkart
Flipkart

See all flipkart coupons
Best to go for HP than DELL!
By Raj Arunon
I went forward with this laptop bcoz of the 4th gen i5 and 2gb NVIDIA Graphics CARD.... 1.)Processor : I was first worried about the 1.8 Ghz clock speed which is less compared to other processors.But believe me this processor is awesome it generates negligible heat(speciality of 4th gen)...Also it has Turbo boost of 2.6 so no need to worry about it... 2.)Storage and Drive : Well not much to say here 1 TB is more than enough and DVD Drive is there. There is just one complaint that of 1 TB only 940 GB is allowable to use.(I am talking about total space not free available space). 3.)Display and OS: Cant say much about OS.I personally prefer Windows 7 and am getting used to Windows 8.Display is pretty good. Maximum brightness is high enough and the display quality cannot be said to be great but good enough..(cmon its only 1366x768) 4.Graphics Card : Graphic card is awesome its better than most of the laptops at this range can offer.Lenovo Z500 (4 gb ram one) comes at around this price and offers just 1 GB Nvidia 740m.(this is 2GB). Most people say that 1 GB is more than enough but my 950 mb graphic memory was used in playing GTA IV itself.Also NVIDIA 740m is a 2nd class graphic card other laptops offer a third class graphic card. I will mention all the games that I have played till now. GTA IV : Smooth on very high settings. FIFA 14 and 13 PES 14 and 13 : Smooth on highest setting with anti-aliasing 4x. Assasins Creed Brotherhood and Revelations : Smooth on Highest settings both. NFS Most wanted 2012: Same smooth on highest settings with shadow effect and everything on. 5.Webcam and Keyboard: The webcam quality was not good.(OK) but it doesnt matter me as I hardly use skype or anything.Keyboard is awesome very smooth to use and make noise just the spacebar makes a little noise. 6.Sound : Well I was personally very impressed with the sound quality.I was not expecting much in this department but HP surprised me.As HP offers Beats Speakers in its high end laptops so was not expecting much in this laptop.But the sound in this laptop is very clear and sharp and the maximum volume is also high.(much better than my friends DELL) 7.Battery Life : It is nice.It gives 5-6 hours battery life when I dont run high demand applications just do net and surfing. 8.Looks : This is where HP has nailed it. The looks of this laptop are awesome. It is just 22.6 mm thin ( I think thinnest as compared to all other notebooks in this range and configurations.). Also I would recommend anyone to buy black colour. I have seen both the laptops but black is much better than white.It has line brushing which gives it a metallic look where white has dot printing which gives it plastic kind of feel.Also black is easy to maintain. So anyone to buy a laptop in 40000-50000 range just go with this laptop you wont regret it.Hope my review helps.
When Will It Come In Stock
By Archit Mishraon
I am not sure whether Flipkart is messing around with people here by showing 10k as the price of a loptop which is worth 40-50K. Anyways bring it in Stock then. come on
Best Laptop at 45 to 50k budget!!! You can go for it !!! Best Deal in Flipkart right now!!
By Flipkart Customeron
I didnt bought this Laptop in Flipkart, but compared to retail stores here it is little less.. I bought this for 48762 with 800 rupees worth Logitech wireless mouse and 1000 rs gift voucher. Coming to the feedback : Specification: I5 4th Gen which has been mainly introduced to avoid more temperature which is up to the mark in this lap. Decent speed which statisfied my expectation. My only concern is with the clock speed (1.6 GHz with Turbo Boost Upto 2.6 GHz ) it could have been little bit more but since this lap has 2 GB grap 740m I didnt worry more about the clock speed. 2 GB grap Nvidia 740m - Great Grap card for gamers. I have played Fifa 14(ultra), Sniper Ghost warrior(high), Far cry 3(medium) as of now. Nothing to complain about the grap. this is enough and much satisfied. Ram - 4 gb ddr3 with two unused slots which can be upgraded to 12 gb max. this is the best feature in this lap. None other of the laptops are providing this much features for futre upgradation. Storage - 1 tb is more than enough.. 940 GB is available.. my personal advice is to not store more that 500 GB data since it will reduce the efficiency. Front cam - it is a HD cam nice and perfect for skype. Audio - Not big volume and I didnt expect that much big also. Sound is cool and nice to hear. Vey Genuine. Touch pad - Multi touch with gesture support is one of the awesome feature in this lap. I can't see any of the laps having this spec in this price range. It is Fantastic to use. Battery - Charging is very fast since is just a 4 cell batery. I used it for 5+ hours without charging( while doing normal processes) 3.5 to 4.5 hrs while gaming and watching movies Usb - Usb 3.0 is very fast 27 mb/s and it will be more fast I guess. 2 * usb 3.0 and 1 * usb 2.0.. they might hae provided one more slot but this is enough if you want more slots just go for hub.. but most of the time you wont need a hub. DESIGN Very thin and doesnt weigh more since it has only 4 cells...but I guess it is little bigger in lenght 385.5 which is the only concerns otherwise it looks great. awesome finish and proud to have it. 15-n208TX - black go for black and I have this one 15-n209TX - white is good but I prefer to black OS : Comes with W8.1 which little complex to use compared to W7 but eventhough I like to work with 8.1 since the touch paad gesture will works only with 8+ versions. Security : McAfee Internet Security - dont use this.. uninstall this once you buy the lap.. use K7, avira or norton or eset. I am using k7. Pros : * Best lap for Gamers and not for core Gamers at this price range. * Display is cool and I didnt expect that HP can provide this much good. Even thoughbrightness is less compared to Sony and Dell, Hp has a pleasent brightness which will take less battery power and work more efficiently. * Touchpad is great. I love the gesture control. * USB 3.0 is up to the mark. copying files in lightning speed. Cons - No cons but my freinds said that * Touch pad is little big. * Also the overall lenght is big but thinest is size. Thanks HP for a nice product.!!!
Gaming... Battery Draining
By Blessing Ponrajon
I bought this laptop for the 2gb graphics card.. Almost all the latest games can be played with this configuration without any issue. But the only issue is the battery. The battery drains in 1 hr while gaming. While browsing or watching movies the backup stands for about 3 hrs. But if u wanna play games keep ur charger plugged in all the time. I played Far cry 3, Pes 14, l.a.noire.. No issues with the graphics. its awesome. Best gaming laptop under 50K i wud say. Am new to windows8.1 but i got adjusted to it in bout 2 days. I hear ppl say windows 7 is the best. But i think windows 8.1 is better. And regarding compatibility i havent faced any issues yet. all my softwares and games runs smooth. Go for it.
superb deal
By Karthik Sriharion
Well I was a bit worried about placing the order in the first place, some of my friends suggested me to buy in shops instead of flipkart. I did check in stores but no deal was as good as this one, so took the risk and placed an order and selected in a day delivery, Well it was delivered with a day and the product is superb I got a great deal, don't know what I was afraid in the first [lace for...
HP Pavilion 15-n208TX4th Gen Ci5/ 4GB/ 1TB/ Win8.1/ 2GB Graph price in India summary
We have aggregated HP Pavilion 15-n208TX4th Gen Ci5/ 4GB/ 1TB/ Win8.1/ 2GB Graph price and coupon offers available across all online stores in India.
HP Pavilion 15-n208TX4th Gen Ci5/ 4GB/ 1TB/ Win8.1/ 2GB Graph lowest price in India as on Sat, 26 May 2018 is Rs. 0.0 offered by Flipkart.
We also have coupons from 1 stores for this product.
Most online stores provide delivery in all major cities in India including Mumbai, Bangalore, Delhi, Hyderabad, Pune and Chennai.
HP Pavilion 15-n208TX4th Gen Ci5/ 4GB/ 1TB/ Win8.1/ 2GB Graph price in India is
Rs.

N.A. on 26th May 2018

Disclaimer:

Scandid is a search engine that crawls every online store in India to find every product that is sold online. We currently show products in Books, Computers, Electronics, Appliances and Personal Care categories. Although we make every effort to present accurate product and store information, including prices and stock availability, Scandid cannot guarantee and is not responsible for inaccuracies or omissions. Please give us

feedback

on these results!