Last updated on: 18th Feb 2018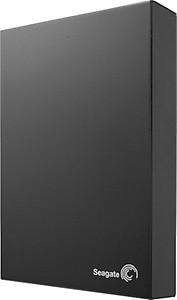 Seagate Expansion 2TB External Hard Disk Price in India
Seagate Expansion 2TB External Hard Disk price in India from
2 stores in India

from

Rs.

4374.33 -

Rs.

6399
Store Name
Additional Info
Price in India

Expands your Xbox One gaming experience<br> Con.. Expands your Xbox One gaming experience<br> Connect this drive to the Xbox One USB port to immediately add storage capacity to your console<br> Easy and simple to use - plug it in and go<br> Fast file transfers with USB 3.0<br> Compatible with USB 3.0 and USB 2.0<br> Powered by USB port<br> Product needs to be reformatted if it is to be used with Mac<br> Reformatting the drive will erase all content unless it is backed up to another drive<br> For any Functionality issues please contact Seagate customercare : 0008004401392<br> + more

Show 2 more offers

Drag and drop file saving, right out of the box<br.. Drag and drop file saving, right out of the box<br> Fast data transfer with USB 3.0 connectivity<br> The hard drive is automatically recognized by the Windows operating system with no software to install and nothing to configure<br> Built-in power management automatically ensures energy-efficient operation<br> + more

Can be installed in seconds<br> More storage fo.. Can be installed in seconds<br> More storage for your computer<br> + more
Seagate Expansion 2TB External Hard Disk Price Trends
Seagate Expansion 2TB External Hard Disk price at Snapdeal has remained constant at Rs. 7350.0 in the last 3 months
The lowest online price for this product in the last 3 months was Rs. 4710.87 at Scandid
Seagate Expansion 2TB External Hard Disk price at Flipkart has remained constant at Rs. 9999.0 in the last 3 months
The lowest online price for this product in the last 3 months was Rs. 4710.87 at Scandid
Seagate Expansion 2TB External Hard Disk price at Ibhejo has remained constant at Rs. 11073.0 in the last 3 months
The lowest online price for this product in the last 3 months was Rs. 4710.87 at Scandid
Seagate Expansion 2TB External Hard Disk price at Ebay has fluctuated between Rs. 6399.0 and Rs.6899.0 in the last 3 months
The current price from Ebay is Rs. 6399.0
The lowest online price for this product in the last 3 months was Rs. 4710.87 at Scandid
Seagate Expansion 2TB External Hard Disk price at Cromaretail has fluctuated between Rs. 7490.0 and Rs.12900.0 in the last 3 months
The lowest online price for this product in the last 3 months was Rs. 4710.87 at Scandid
The lowest online price for this product in the last 3 months was Rs. 4710.87 at Scandid






The prices in the Price Trend graph do not include coupon savings.
Seagate Expansion 2TB External Hard Disk Specifications
Sales Package
Seagate Expansion Portable Hard Drive,USB 3.0 Cable,Quick Start Guide
System Requirements
Windows: 7,8
Data Transfer Rate
USB 3.0: 5 Gb/s
External Power Supply
Yes
Dimensions In Cm(lbh)
11.8 x 18 x 3.8 cm
Features
Built-in Power Management Ensures Energy-efficient Operation, Plug and Play
Category
External Hard Disk
Operating Temperature
5Deg C - 40Deg C
Compatible With
Windows XP and Above, Mac OS v 10.5, 10.6, 10.7
Hard Drive Interface
USB 2.0/3.0
Customer Reviews
3.8 out of 5 stars 61 customer reviews
Best Sellers Rank
#458 in Computers & Accessories (See top 100) #41 in Computers & Accessories > External Devices & Data Storage > External Hard Disks
Date First Available
1 January 2017
Seagate Expansion 2TB External Hard Disk Coupons
There are 2 coupons available for this product: 1 for amazon, 1 for ebay
Amazon

Shop for accessories, cameras & photography, car & vehicle electronics, computers & accessories, gps & accessories, headphones, home audio, home theater, tv & video, mobiles & accessories & more.
See all amazon coupons
Ebay

See all ebay coupons
AWSM!!!!!
By Abhishek Kulkarnion
Just got it delivered!!!! very fast delivery and HDD is so awsm!!!! Great service by Flipkart !!!! Its very fast and easy setup Best HDD out there in the market !!!! Its kinda heavy you cant carry with you always but still its compact compared to others in the market.
Got short circuit after 6 months
By Apoorv Kumaron
It got short circuit after 6 months of medium usage, maybe because I was using it with a different adaptor, at 12V rating. Till then, its working was good. Would recommend to buy 2 1TB hard disks instead of a 2TB hard disk, to ensure data security and convenience in carrier around. Edit: After the short circuit, it was replaced (yes, not repaired) by Seagate with a brand new adapter & cable (both of which I had lost) without any extra charge. The replacement was made within a weak of submitting it for replacement.
Wrong product description, careful before you buy
By Ash Chopraon
The product description was wrong, it was not a mac compatible hard drive. It said clearly on the product page that it was. Overall the service from flipkart is lousy at best, my job it seems has become only to give them feedback after feedback for all the messups they do. I wont go again detailing the case with this hard drive, but before they delete this review, (just like previous one time, coz they only like good reviews), I'f rather have some people know here, before I share on Twitter, FB and Youtube.. thanks for nothing
ALL YOU NEED TO KNOW-Seagate's Expansion Drive
By Vikram Kumar Guhaon
well firstly as far as Flipkart and the seller-"WS Retail" is concerned-their packaging & delivery is very good.I got it in 3 days and the packaging is so good and tough that it is quite an effort stripping away everything and getting to the box. Secondly about the hard disk itself:- Well the first thing is that this is not a new model from Seagate but its old Expansion model with a new external cover.Personally the finish of this cover is not very good and looks quite blunt and unstylish,the old cover comparatively had much more design,finishing and style and the only negative point was that it had a shiny glossy top which looked very good but attracted dust. Apart from this,everything is the same. Seagate is trust worthy.However the thing to remember is that this is the most basic model which should be used only as a warehouse or storage for large amounts of data,it provides 1.81 TB of usable space,satisfactory transfer speeds and longevity,nothing more nothing less. But don't use it like a slave drive which is always connected with a lot of programmes interacting with it or you working from it.JUST FOR STORAGE. Thats why these drives are also called Back-Up drives and come with Free versions of Back-Up software which by defination is to be used for taking a big back-up which is to be updated from time to time. So if your looking for a work-horse then you should consider higher & more expensive models of Seagate. USE :- One thing to remember is-that a computer or any associated device (especially hard disks) is not like a fan or bulb that you can just switch on & off as per your need and convinience BUT it needs both software & hardware maintaince like the human body. Firstly register the product with Seagate and then do a NTFS Format before starting to load data.Always load data in small chunks (just because its a 1.81tb drive doesn't mean you can or should just use it all in one go and push the Drive too much when its still brand new). Also always run utility programmes like de-fragmentation & Error-check.etc on your computer and hard disks in order to keep them fresh and healthy. Flipkart's Prices are quite competitive and in the least its safe to say you won't feel cheated from a deal. However i advise all customers to do the educated and smart act of utilising your rights as a customer and get independent best price quotes from a few dealers in different sections of your city before selecting the seller as far as price is concerned.(This can easily be done by getting their Phone No.s from services like 'Just Dial' & giving them a call) As far as the price for this Hard disk is concerned,i found it to be atleast Rs300. cheaper then even the wholesale market dealers were offering. One must also not forget to factor in the Additional Transportation Cost,Energy Cost (a meal you would want to take after doing the labor of travelling to & from the market) & Time Cost that Flipkart's 'Free' Delivery with CODoption saves.This means I saved Rs.300.+Rs.200.(min cost for time,energy & transport cost)=Rs.500. HAPPY SHOPPING,FELLOW CUSTOMERS.
Very nice!!!
By Chandandeep singhon
it a nice HDD to have plus u have lots of space. So you can have all that downloaded stuff at one place. Works like charm but heavy can carry all time and its not portable coz u need to give it power supply. Good for laptop user at home. I personally recommend this product. Great Flipkart
It is working with external charger
By Ishon
Less liable.
best ever deal
By Angadon
I just love this hdd thanks for the awesome deal
GREAT PRODUCT
By Manjish18on
This is the 4th year I am using the HDD
Ubee xcv anantnag
By Obaid4022on
Great product
Seagate backup plus
By Majumdersinchanon
It's very good and long lasting..
Seagate Expansion 2TB External Hard Disk price in India summary
We have aggregated Seagate Expansion 2TB External Hard Disk price and coupon offers available across all online stores in India.
Seagate Expansion 2TB External Hard Disk lowest price in India as on Sat, 17 Feb 2018 is Rs. 4374.33 offered by Amazon.
We also have coupons from 2 stores for this product.
Most online stores provide delivery in all major cities in India including Mumbai, Bangalore, Delhi, Hyderabad, Pune and Chennai.
People looking for Seagate Expansion 2TB External Hard Disk may also be interested in:
Seagate Expansion 2TB External Hard Disk price in India is
Rs.

4374.33 on 18th Feb 2018

Disclaimer:

Scandid is a search engine that crawls every online store in India to find every product that is sold online. We currently show products in Books, Computers, Electronics, Appliances and Personal Care categories. Although we make every effort to present accurate product and store information, including prices and stock availability, Scandid cannot guarantee and is not responsible for inaccuracies or omissions. Please give us

feedback

on these results!